Boana prasina (Burmeister, 1856)
Burmeister's Treefrog
family: Hylidae
subfamily: Hylinae
genus: Boana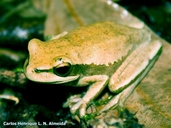 &copy 2011 Carlos Henrique Luz Nunes de Almeida (1 of 10)
| | |
| --- | --- |
| | hear call (1144.6K MP3 file) |
| | hear call (166.3K MP3 file) |
| | hear call (1188.7K MP3 file) |
Distribution and Habitat

Country distribution from AmphibiaWeb's database: Brazil
Comments
This species was featured in News of the Week March 4, 2019:
Amphibians possess diverse skin secretions and microbiota, yet we know little about how these chemicals or bacteria are used to communicate. By comparing volatile (odorous) chemicals from Boana prasina treefrogs and from bacteria grown from their skin, Brunetti et al (2019) discovered that the strong odor of B. prasina is partially produced by skin-living bacteria. Odor-producing bacteria had been identified in mammals and insects but were previously unknown in amphibians. Brunetti and colleagues also found that odorous (volatile) chemical profiles differed substantially between males and females, perhaps because of differences in how they spend their time or what they eat, which can influence what microbes survive on the frogs. However, they also suggest these chemical profiles may be shaped by natural selection and could play a role in communication, but more research is needed to test this hypothesis. As stated in their article, "studies on the ecological role of host–microbiome associations in amphibians are in their early infancy" – and we look forward to hearing more. (Written by Rebecca Tarvin)
---


Edited by: Michelle S. Koo (2022-04-20)

Species Account Citation: AmphibiaWeb 2022 Boana prasina: Burmeister's Treefrog <https://amphibiaweb.org/species/918> University of California, Berkeley, CA, USA. Accessed Apr 2, 2023.
---

Feedback or comments about this page.

Citation: AmphibiaWeb. 2023. <https://amphibiaweb.org> University of California, Berkeley, CA, USA. Accessed 2 Apr 2023.

AmphibiaWeb's policy on data use.