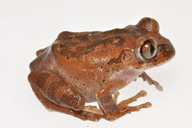 &copy 2020 Stuart Nielsen (1 of 11)

Description
A rather small Leptopelis (males 33-39 mm, females 44-54 mm), brown with an occipital triangle and rounded lateral spots. Metatarsal tubercle is smaller than in L. viridis, the tibia longer and webbing more extensive. Iris red or orange. Small dark points present on the flanks, especially in the groin. Small white spots often present on back and limbs. Webbing of hand and foot as in L. ocellatus.

Distribution and Habitat


Country distribution from AmphibiaWeb's database: Cameroon, Central African Republic, Congo, Congo, the Democratic Republic of the, Gabon, Nigeria

Found in bushland from Nigeria east of Cross River to R. Congo, Central African Rep. and western R. D. Congo.

Life History, Abundance, Activity, and Special Behaviors
The males often call from low elevations, 0.5-1.5 m above the ground. The voice seems to confirm that the very similar West African form (here termed L. spiritusnoctis) is a distinct species. The most frequently heard call is an unmelodious clack sounding like the click of a tongue. Another call is a brief series of clicks, comparable with the sound of castanets.

Comments
This account was taken from "Treefrogs of Africa" by Arne Schiøtz with kind permission from Edition Chimaira publishers, Frankfurt am Main. Updated by A. Schiøtz, 2008.

References


Schiøtz, A. (1999). Treefrogs of Africa. Edition Chimaira, Frankfurt am Main.
---

Originally submitted by: Arne Schiøtz (first posted 2001-01-31)
Edited by: Kellie Whittaker (2008-09-30)

Species Account Citation: AmphibiaWeb 2008 Leptopelis aubryi <https://amphibiaweb.org/species/3634> University of California, Berkeley, CA, USA. Accessed Sep 25, 2023.
---

Feedback or comments about this page.

Citation: AmphibiaWeb. 2023. <https://amphibiaweb.org> University of California, Berkeley, CA, USA. Accessed 25 Sep 2023.

AmphibiaWeb's policy on data use.