Mantidactylus bourgati Guibé, 1974

Subgenus: Brygoomantis

family: Mantellidae
subfamily: Mantellinae
genus: Mantidactylus

Species Description: Guibé, J. 1973. Batraciens nouveaux de Madagascar. Bulletin du Museum National d'Histoire Naturelle. Paris. Serie 3, Zoologie 145: 1009–1017.

Taxonomic Notes: Resurrected by: Glaw, F., Vences, M. (2006) "Phylogeny and genus-level classification of mantellid frogs (Amphibia, Anura)." Organisms, Diversity and Evolution 6, 236-253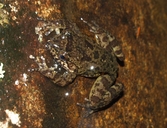 &copy 2011 Devin Edmonds (1 of 2)

Description
Previously considered as M. curtus, populations from the Andringitra Massif have recently been resurrected under the name M. bourgati. Specimens of quite variable morphology and colouration can be found along streams both inside montane forest and above the treeline (Glaw and Vences 2007).

Distribution and Habitat


Country distribution from AmphibiaWeb's database: Madagascar

Andringitra, Andohariana plateau, Imaitso forest (Glaw and Vences 2007). It occurs between 1,400-2,000 m asl in clean streams, generally within montane forest, and also in montane grassland above the treeline (Vences and Andreone 2008).

Life History, Abundance, Activity, and Special Behaviors
Breeding takes place in streams (Vences and Andreone 2008).

Trends and Threats
Abundance is not known. So far all known localities are within one protected area, Andringitra National Park. It probably does not tolerate degraded habitat (Vences and Andreone 2008).

Comments
Taken with permission from Glaw and Vences (2007).

References


Glaw, F., and Vences, M. (2007). Field Guide to the Amphibians and Reptiles of Madagascar. Third Edition. Vences and Glaw Verlag, Köln.

Vences, M. and Andreone, F. (2008). Mantidactylus bourgati. In: IUCN 2008. 2008 IUCN Red List of Threatened Species. www.iucnredlist.org. Downloaded on 29 April 2009.
---

Originally submitted by: Miguel Vences and Frank Glaw (first posted 2009-04-29)
Edited by: Kellie Whittaker (2009-04-30)

Species Account Citation: AmphibiaWeb 2009 Mantidactylus bourgati <https://amphibiaweb.org/species/6765> University of California, Berkeley, CA, USA. Accessed Sep 28, 2023.
---

Feedback or comments about this page.

Citation: AmphibiaWeb. 2023. <https://amphibiaweb.org> University of California, Berkeley, CA, USA. Accessed 28 Sep 2023.

AmphibiaWeb's policy on data use.