Pelobates cultripes (Cuvier, 1829)
Western Spadefoot, Iberian Spadefoot Toad
family: Pelobatidae
genus: Pelobates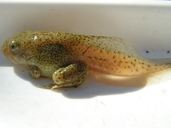 &copy 2010 Mirjam van de Vliet (1 of 27)

Description
Tympanic membrane absent. Skin smooth. Sternum ossified. Pupil of the eye is vertical. Webs between the toes well-developed. Inner metatarsal tubercle of the hind fooot quite large and spade-shaped. No male resonators. Body robust, hind legs short, head large. Dorsal coloration is quite variable, from grey, brown, and yellowish to dark-brown or greenish, with small light spots. Sometimes the coloration is uniform. Belly light, with darker spots. The male is smaller than female. During the reproductive period the male possesses tubercles on the palms and forearms.

Distribution and Habitat


Country distribution from AmphibiaWeb's database: France, Portugal, Spain

The species inhabits Iberian Peninsula (except for its north), Southeastern and Western France (departments Charente-Maritime, Vendee, north of Gironne, and Loire-Atlantique). The species seems to be most common along the coast of France and in some areas in Spain: Cataluna and Western Andalucia.

Pelobates cultripes lives in various open landscapes, such as dunes, agricultural landscapes, fields, meadows etc. Reproduction occurs in stagnant water bodies.

Life History, Abundance, Activity, and Special Behaviors
In the northern parts of the range, a short hibernation occurs, whereas in the south aestivation is assumed. Reproduction occurs from October to May, depending on latitude and altitude. Amplexus is pelvic (inquinal). Embryonic and larval development takes about 4-6 months.

Longevity in this species is estimated to 10-15 years old. Food of adults consists mainly of crawling terrestrial arthropods: carabids, spiders etc.

Larva
Some larvae apparently delay their metamorphosis, and attain very large size (to 120 mm).

See below for recent research studies on the plasticity of larvae morphology in this species.

Trends and Threats
The species is generally not threatened, except for some peripheral populations (see above). The main threats are isolation of populations by agriculture, destruction of natural habitats, introduction of fishes in breeding ponds, modification and contamination of wetlands etc.

Relation to Humans
The species occurs in human neighborhood, but in anthropogenic landscapes its populations undergo certain threats (see above).

Comments
This species was featured in news of the week September 12, 2022:
The ability to adjust how an organism looks, functions, and behaves based on their environment (i.e., change phenotypes) within a lifetime is termed plasticity. Although being able to adjust to environmental changes seems incredibly beneficial, not all organisms have the same capacity to do so. It is hypothesized that plasticity might have underlying costs, and thus unfavorable in reliable environments where the costs to plasticity outweigh the benefits. However, the proposed costs to plasticity are mostly theoretical and difficult to measure. A study by Burraco et al. (2022) took advantage of the developmental plasticity within Iberian Spadefoot Toads (Pelobates cultripes) to identify these costs. Spadefoot tadpoles often alter their growth and morphology when raised with predator cues, and the degree of plasticity is variable among individuals. They tested spadefoot sibling pairs raised with and without predator cues, and asked whether more plasticity was associated with a cost (either oxidative stress or immune suppression). They showed tadpoles with a higher degree of plasticity were associated with enhanced metabolism (denoted by higher activity of antioxidant enzymes) as well as immune and oxidative costs. This is a rare study to attempt to identify the underlying costs of plasticity and amphibians provide a number of great systems for addressing this outstanding biological question. (Written by Molly Womack)
This species was featured in news of the week August 21, 2023:
Many animals have the ability to change their appearance to better match their backgrounds and become cryptic. Some, like the octopus, can do this very quickly by expanding or contracting different colored pigments in their skin. Others, like the snowshoe hare, change their coloration from one season to the next, by increasing or decreasing the amounts of pigments in their skin or fur. This second type of color changes tends to be a little slower, but probably is more common in the animal kingdom, including in amphibians. Liedtke et al (2023) explore the extent to which Western Spadefoot Toad tadpoles (Pelobates cultripes) can change their color in response to different backgrounds. They find that in a matter of days, these tadpoles can become completely dark or light, tracking the brightness of their environment. The tadpoles can adjust their pigmentation depending on just how bright their background is, and even reverse this color change completely. For a tadpole that lives in temporally changing ponds across the Iberian Peninsula, this is a useful trick to hide from visual predators. Color change in these tadpoles is achieved through changes in the production of eumelanin, a dark pigment commonly found in vertebrate skin. Interestingly, changes in pigmentation also are associated with changes in body shape and may have physiological consequences on the organism's oxidative stress levels. The hormones and mechanisms that are involved in this environmentally induced color change may, therefore, be intertwined with other physiological processes, an exciting prospect for future studies. (Written by Christoph Liedtke)
References

Gasc, J.-P. (1997). Atlas of Amphibians and Reptiles in Europe. Societas Europaea Herpetologica, Bonn, Germany.
Nöllert, A. and Nöllert, C. (1992). Die Amphibien Europas. Franckh-Kosmos Verlags-GmbH and Company, Stuttgart.
Paris, M.G., Martin, C., Dorda, J. and Esteban, M. (1989). Los Anfibios y Reptiles de Madrid. Servicio de Extension Agraria, Ministerio de Agricultura, Madrid.
Salvador, A. (1985). Guia de Campo de los Anfibios y Reptiles de la Peninsula Iberica, Islas Baleares y Canarias. Santiago Garcia, Leon.
---

Originally submitted by: Sergius L. Kuzmin (first posted 1999-11-10)
Edited by: Meredith J. Mahoney, Michelle S. Koo (2023-08-20)

Species Account Citation: AmphibiaWeb 2023 Pelobates cultripes: Western Spadefoot <https://amphibiaweb.org/species/5269> University of California, Berkeley, CA, USA. Accessed Sep 24, 2023.
---

Feedback or comments about this page.

Citation: AmphibiaWeb. 2023. <https://amphibiaweb.org> University of California, Berkeley, CA, USA. Accessed 24 Sep 2023.

AmphibiaWeb's policy on data use.