Ameerega trivittata
Three-striped Poison Frog (English), groengestreepte gifkikker (Dutch), tidetide (Sranan), Sapito Dargo Trillistado (Spanish)
family: Dendrobatidae
subfamily: Colostethinae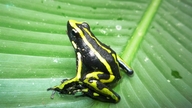 &copy 2010 Miss. Katy A. Upton (1 of 46)

Conservation Status (definitions)
IUCN (Red List) Status
Least Concern (LC)
CITES
Appendix II

Other International Status
None
National Status
None
Regional Status
CA
Range Description
This species occurs below 500m asl in Bolívar state, Venezuela, and also in Guyana, Suriname and in the Amazon basin of Colombia, Brazil, Peru and northwestern Bolivia. Although the species range map in Walls (1994) depicts the species in French Guiana, a recent work by Lescure and Marty (2001) does not include this taxon for that country.
Habitat and Ecology
It is a diurnal and terrestrial species that is found in old and second growth tropical rainforests on the forest floor. The eggs are laid in the litter and the tadpoles are carried on the back to temporary pools.
Population
It is common throughout its range.
Population Trend
Stable
Major Threats
Deforestation is a threat to this species. It is sometimes found in the international pet trade but at levels that do not currently constitute a major threat.
Conservation Actions
It occurs in several protected areas in its range, except for in Venezuela and Guyana.
Taxonomic Notes
Ameerega peruviridis has been identified as a colour variant of Ameerega trivittata (Frost, 2007).
Citation
La Marca, E., Azevedo-Ramos, C., Silvano, D. & Barrio-Amorós, C.L. 2008. Ameerega trivittata. In: IUCN 2014
IUCN Terms of Use