Litoria genimaculata
Green-eyed Treefrog
family: Hylidae
subfamily: Pelodryadinae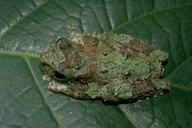 &copy 2002 Jean-Marc Hero (1 of 5)
| | |
| --- | --- |
| | hear call (734.9K MP3 file) |
| | hear call (5400.2K WAV file) |
Range Description
This species is found in Australia in the Queensland Wet Tropics. As currently recognized taxonomically in New Guinea, this species is widespread across most of central New Guinea and also occurs on islands off the west coast. It occurs up to 1,500m asl in New Guinea, and occurs from around 100m to 1,500m asl in Australia.
Habitat and Ecology
This species occurs in small streams and rocky creek beds in lowland and foothill rainforest, and also persists in degraded forest and rural gardens. In Australia breeding starts in August. It breeds in slow-moving or still streams and temporary pools. Egg clumps of 843 eggs in a firm jelly have been recorded, laid in a pool.
Population
Litoria genimaculata is currently common throughout the Australian Wet Tropics but underwent population declines in the early 1990s (Laurance et al., 1996; McDonald and Alford, 1999). Populations appear to have recovered to pre-decline levels across the Wet Tropics (McDonald and Alford, 1999; Richards and Alford, 2005).In In New Guinea, this species is abundant wherever it occurs. In Australia it is common throughout the year, but it is sparsely distributed.
Population Trend
Decreasing
Major Threats
Declines were noted in the Wet Tropics in Australia in the 1990s. A chytridiomycete fungus (Batrachochytrium dendrobatidis) has been identified as the most likely proximate cause of these declines (Berger et al., 1998), and chytrid is known to be a source of mortality in L. genimaculata (Speare and Berger, 2005). Chytrid fungus was detected in this species in Topaz, Queensland.
Conservation Actions
A recovery plan for the frog species in the Wet Tropics has been written which will benefit this species. Its range includes a few protected areas within its range. The taxonomic status of the different populations needs to be assessed. Some of the taxonomically distinct populations might require specific conservation actions.
Taxonomic Notes
In New Guinea this "species" includes several undescribed taxa (S. Richards pers. comm.) but until the systematics of the Group is addressed they are treated here as a single taxon. We follow Hoskin (2007) in separating some of the frogs from the Kuranda area of Queensland, Australia, previously assigned to this species, as Litoria myola. Hoskin (2007) also noted that occurs as two distinct lineages (northern and southern) that meet near Cairns.

Citation

Ross Alford, Michael Cunningham, Keith McDonald, Stephen Richards, David Price 2004. Litoria genimaculata. In: IUCN 2014

IUCN Terms of Use