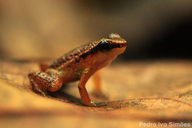 &copy 2013 Pedro Ivo Simoes (1 of 6)

Conservation Status (definitions)
IUCN (Red List) Status
Least Concern (LC)
CITES
No CITES Listing

Other International Status
None
National Status
None
Regional Status
None
Range Description
This species is known only from the Manaus region, Balbin, Amazonas state, Brazil. It is probably more widely spread.
Habitat and Ecology
It lives in the leaf-litter of old growth and secondary tropical rainforest. It lays its eggs on land, and the larvae also develop on land.
Population
It is abundant and the population is stable.
Population Trend
Stable
Major Threats
Deforestation is a threat to this species.
Conservation Actions
Conservation units are present within its range.
Citation
Miguel Trefaut Rodrigues, Claudia Azevedo-Ramos 2004. Anomaloglossus stepheni. In: IUCN 2014
IUCN Terms of Use